The Last Hurrah
Topic: Fuling
This is going to be a quick post, since we have to be up at 4 am - oh dear Lord - to get ready to catch the bus that will take us to Chongqing to catch the plane that will take us to Beijing to catch the plane that will take us HOME!!! Prayers for traveling mercies and long naps for Liann will be much appreciated.
Incidentally, if anyone is so inclined to leave a comment to let me know people are reading these posts, I'd love to have them. I have no traffic statistics, so have no idea if anyone is even reading this blog, other than my nearest and dearest. Not that I've ever needed an audience to spout off, but it does help.
Anyway, we began the day at the Fuling Cultural Arts museum, which gave an absolutely fascinating history of Fuling and the Ba people. Some of the earliest relics have been submerged as a result of the Three Gorges Dam - however, construction is almost complete on a underwater domed viewing station that will allow people to continue to see the relics. Sadly, pictures were not allowed, so I have books with photos and explanations of the relics if anyone is interested.
After lunch, we traveled back to the orphanage for the closing ceremony. After one final group picture, the girls received a present from Director Yang - a lovely jade pendant with the Fu symbol and a carving of the vegetable used for the Fuling pickle, and the symbol for Fuling carved on the back.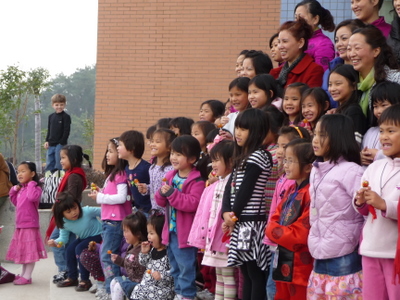 [The girls (or most of them) with Director Yang]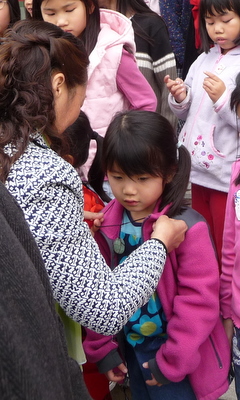 We were also invited to plant a gingko tree, reknowned for its longevity, with the girls' names on them; we've been promised that we will receive a yearly picture of the tree and its growth. Liann and Erica, both from the same travel group in 2005, planted the first one together.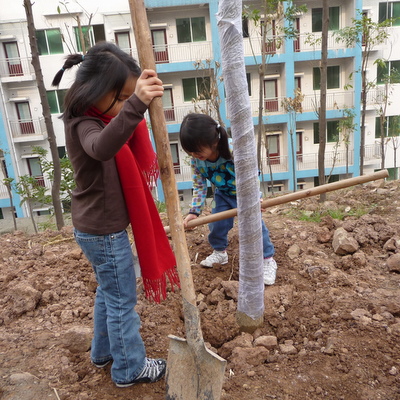 [Erica and Liann working the land]
We also had a chance to go back inside the orphanage, which was nice, since Liann wanted to see "her baby" again. I'm fairly certain she knows the baby isn't coming home with us. . .
Tonight, the staff at BLAS threw a banquet for us. I had the chance to thank Director Yang (who is retiring), using the only words I had - "Xie xie." She enveloped Liann and me in a huge bear hug and held us for the longest time. There were tears in both our eyes when we let go.
I want to end this blog with some pictures of our new friends and the happy families we've met on this trip. I hope we get to cross paths again. These are very special people.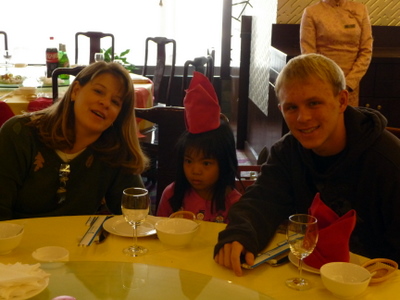 [Renee, Grace and Evan]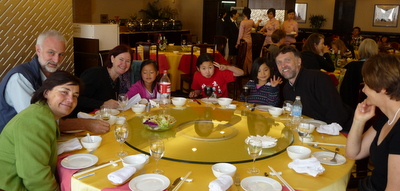 [The Australian contingent: Joy, Alan, Lucinda, Lucy, De Ang, Jayne, Adrian, and Suzanne * Please correct me if I get the names wrong!]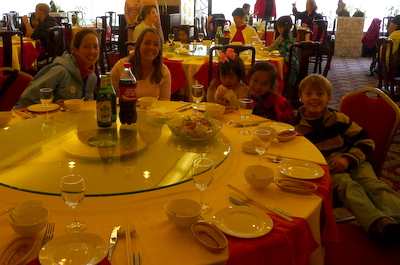 [Debby, Terri, Anslee, Emma, and Andrew]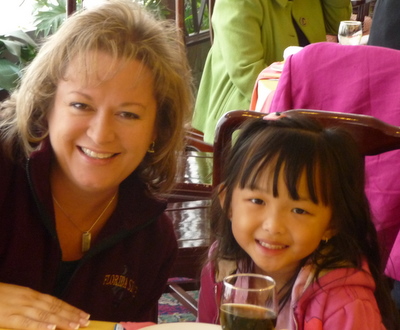 [Mary and Livie]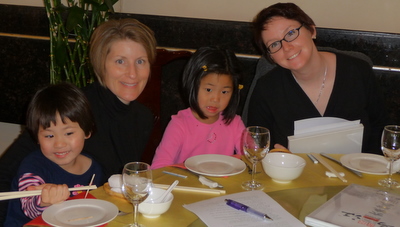 [Christine and Olivia, Ai Lin and Roseann]
Thanks to everyone who helped to make this trip so special for Liann and me. We will always treasure these memories.
Posted by heartstringsoh at 8:41 AM EST